Corporate Overview

Mission
Strengthen the resilience and self-efficacy of people facing addiction, mental health and aging-related challenges.
Problem
It's estimated that 60% of people relapse before 3 months, but only 34% after a year. If a person stays in recovery for 5 years, the chance of relapse drops to 15%. The greatest indicator of success in recovery is length of time.
Solution
Research demonstrates that fitness and nutrition have significant influence over how the addicted mind and body heal, and normalize faster. Best outcomes require an understanding of the biopsychosocial nature of the problem. Our courseware and hands-on programs teach identification and remediation of unhealthy thought processes, attitudes and behaviors. We reinforce and maintain positive change by replacing maladjusted habits with a more structured approach that emphasizes personal aptitude and responsibility.
 Populations         
Clinical organizations serving clients
Corporations with employees at risk
Public / Not-for-Profit such as schools, institutions and government agencies
 Products 
Turnkey courseware to supplement/replace existing clinical programs
Didactic and experiential corporate/organizational program design and delivery
Educational presentations/speaking engagements raise awareness/prevention
Customization
Each program is tailored to the needs of the organization. This may entail adding new course topics, restructuring content and delivery duration, and scheduling accommodations.
 Value Proposition
  More people in early recovery reach 1- and 5-year milestones
  Address and inhibit employee problems before they intensify
  Public and charitable institutions raise awareness in their constituents
 Organization 
 Incorporated in Las Vegas in 2013; a 501(c) 3 public charity

---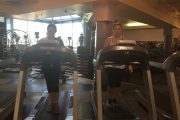 It is amazing how many warning signs of stress look exactly like warning signs in the process of relapse! In fact, we know that many of these are identical – and that stress is a huge trigger in relapse. Well, it's not actually the stress, is it? It's what we do with that stress.
Group was focused on improving our knowledge and self-awareness in regard to identifying and managing stress in our lives.
What is stress? Is it always bad? What triggers stress? What are the negative health effects of being in a constant stress-state? Last night, we worked on these answers to these questions and more. We identified not only our own specific triggers – and what our number #1 current stressor is – we walked through a litany of coping skills and strategies effective in mitigating stress.
And not surprisingly to anyone who has been reading these blogs, but we followed up our education group with one of everyone's favorite stress-reduction tools – EXERCISE. Remember, stress is a large part of everyone's life in the 21st century. Just because you're in recovery, doesn't mean you have a monopoly on stress. If you're a "normie" (i.e., not in recovery / no addiction condition), get your exercise on to reduce stress!
Check out our Facebook page for videos of our team!